The Textile Co-operative Bank Ltd., Bangalore was established on 13th March 1963 by people committed to social cause in Bangalore city.  The Bank has always kept the goal of helping economically weaker section of the society and has earned a name as Bank of masses and not only for classes.
The Bank has made steady progress in past 55+ years and under the present Board of Directors has taken leap towards progress through technology.
The bank has celebrated its silver jubilee in the year – 1991  . successfully thereafter it has also celebrated golden jubilee in the year 2013 in a grand manner.
The bank has  established 10 branches in order to help the customers in different parts of Bengaluru, Bengaluru Urban the details of the Branches as follows.
-MAIN BRANCH
-SUDHAMANAGAR BRANCH
-ADUGODI BRANCH
-MAGADI ROAD BRANCH
-L N PURA BRANCH
-GOTTIGERE BRANCH
-ANEKAL BRANCH
-NELAMANGALA BRANCH
-UTTARAHALLI BRANCH
-YELAHANKA BRANCH
The Birds eye view of the performance of the bank for last 5 decades is as follows
1963 total no of members – 307
Capital Rs. 1,21,255/-
| | | | |
| --- | --- | --- | --- |
| Year | Turnover | Capital | Profit |
| 1970 | 27.6 | 2.7 | 0.49 |
| 1980 | 57.4 | 6.44 | 2.24 |
| 1990 | 435.54 | 30.3 | 13.29 |
| 2000 | 5471.45 | 151.05 | 140.85 |
| 2010 | 17586.9 | 467.36 | 137.44 |
| 2020 | 46604.5 | 673.08 | 227.97 |
Rupees in Lakhs
The year wise comparative performance of the bank for last 5 years is as follows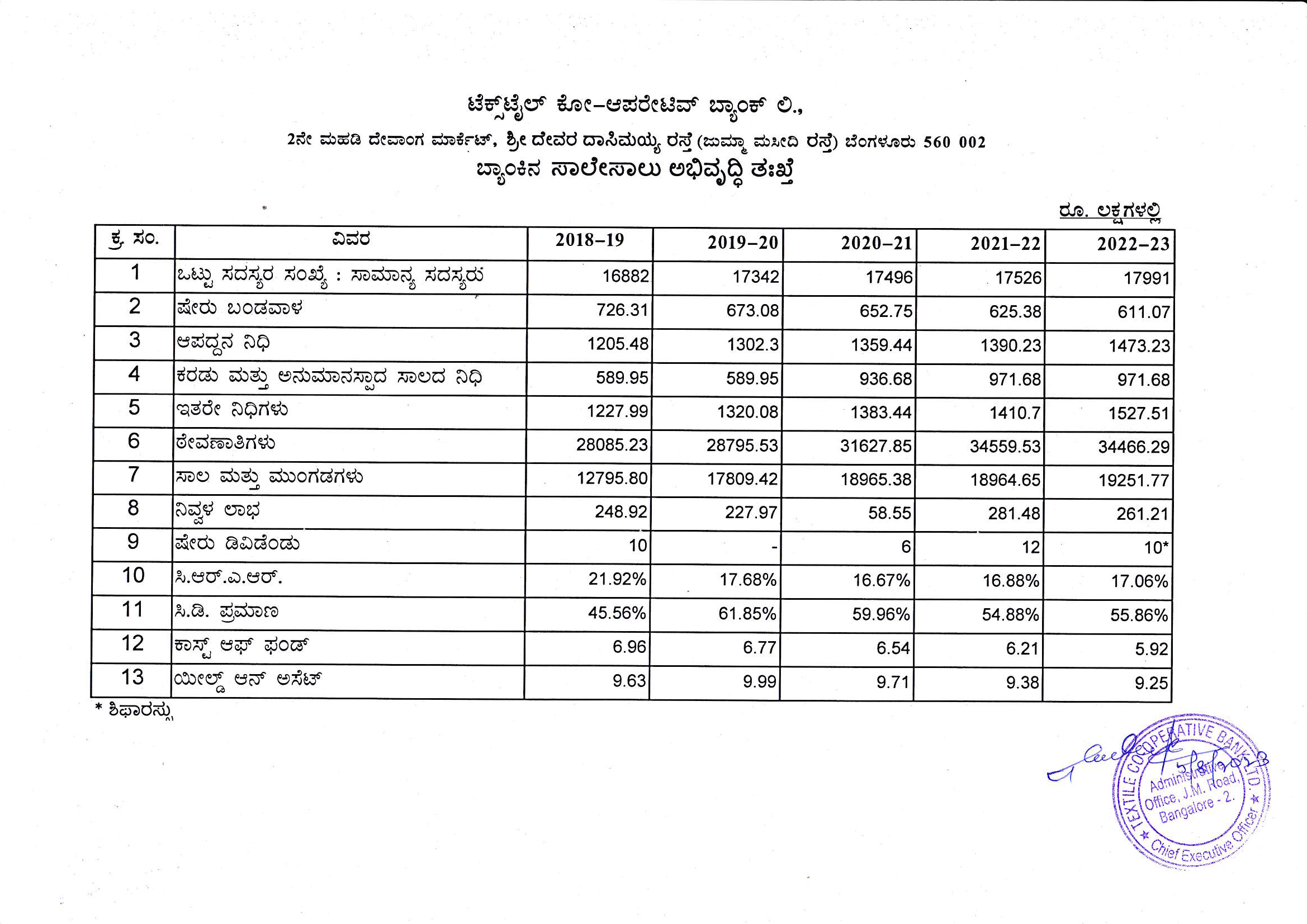 * Recommended
The Textile Co-operative Bank Ltd., Bangalore is making steady progress and the Shareholders, Customers, Employees and Well-wishers are intergal part of this progress.  Their involvement and contribution is immense.  Todays the bank has a wide net work of 10 Branches and 1 Administrative Office spread all over Bangalore and  Bangalore Rural
Bank provides extensive training through specialised persons, professional agencies and training Institutions to its employees from time to time for upgrading their skills for better customer service.
Social Commitment:
The Textile Co-operative Bank Ltd., Bangalore has from inception committed itself to the social cause.  The Bank, being a part of the Social System, is committed for upliftment and economic development of the society at large.  In 1963 when weavers and people from other unorganized sector were denied the banking services,  Bank was started and extended financial support to these sectors.  It is committed to support people from various sectors with not only banking services but also encourages to grow finacially strong.  The Bank is giving loans to members under government scheme at concessionary rate of interest as formulated by the government of Karnataka for time to time for Weavers Loans, Education loan @ 8.50% p.a. apart from other credit facilities to the members.
Members Welfare
Providing study books to the wards of the member under Book Bank Scheme.
Organising Medical Camp for the benefit of members.
Prathibha Puraskara to encourage meritorious students etc.,
During the last 5 years in order to keep pace with the changing banking environment  the succesive boards have taken several initiatives the major one being the implementation of Core Banking Solution so that our customer can operate from any of the Textile Co-Operative Branches. We have also taken measures to introduce ATM Service, We have also provided Direct service of RTGS/NEFT Host to Host service for providing transfer of funds on realtime.
Vision and Mission Statement:
The management looks forwards to build a fundamentally strong financial institution serving the financial needs of the society at large.  It also reiterates its commitment to financial inclusion by offering easy access to the financial  products by weaker section of the society.
The bank has made the turn around which is unique in the history of banking and now continuously showing profits.
The bank has declared dividend for last 3 consecutive years and is enjoying continues faith of the customers and well-wishers.
Vision:
The Bank has celebrated Golden Jubilee in the year 2013, it is now moving towards success to completion of 75 years (Platinum Jubilee) in the year 2038.  We are hopeful of opening 75 branches and reach the business min of Rs.1000 Crores supported by all technological products ands service to provide prompt, efficient and effective Services.  The Bank is committed to promote best corporate governance practices and strives to live-up to stake holders expectations.